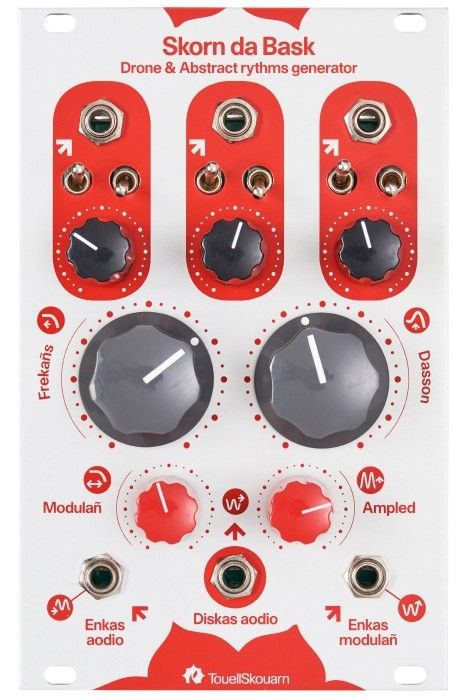 Skorn da Bask
Drone, Filter & Abstract Rythm Generator
An expert for creating drones – Skorn da Bask is composed of three analog saw tooth oscillators and a low pass filter.
3 analog OSCillators/LFOs
1 analog Low Pass Filter (24dB)
Osc 1, 2, 3 CV Modulation input
Filter Audio Input
Filter Modulation input
Details
Thanks to their routing options, the VCOs can not only be used to generate audio signals, but for modulating the VCF's cutoff frequency as well. Besides processing internally produced saw tooth waves, the filter is also usable for editing sound coming from other modules. Typical Touell Skouarn, the Skorn da Bask distorts like hell. Primary application: The creation of dirty, experimental sound structures and abstract rhythms.

The front panel of Skorn da Bask shows three areas highlighted in red. These zones contain the connectors and control elements for the oscillators. Each VCO comes equipped with a pitch CV input, a tune potentiometer and two switches for defining the routing as well as the frequency range used. In detail, the oscillators can be connected to the audio or CV input of the filter. Thanks to their range switches, each VCO is able to work with audio or low frequency rates. The pitch input does not follow the standard 1v per octave. – After all, Skorn da Bask is not an ordinary oscillator module, but an experimental sound generator.

The low pass filter features a slope of 24 dB per octave. A potentiometer named Freqañs regulates the circuit's cutoff parameter, Dasson sets the resonance. For processing external signals, there is an audio input. As long as a cable is plugged into this socket, the VCOs are disconnected from the filter's audio path. Third-company modules, like an envelope or LFO, can influence the VCF's frequency via a CV input. For damping modulation signals coming from the oscillators, there is an attenuator knob. The audio output is equipped with a level potentiometer. High settings lead to juicy overdrive effects.

Trim potentiometers at the module's circuit board make it possible to vary the oscillator and filter levels as well as the resonance.
Technical
---
User Manual
---
Thru Hole Kits
---
Pre-Populated SMD Kits
---